Occupational Therapy For Spina Bifida
https://www.triumphtherapeutics.com/wp-content/uploads/2022/01/Triumph-Therapeutics-Speech-Therapy-OT-Physcial-Therapist-Washington-DC-Jan02-01-2022.jpg
710
379
Triumph Therapeutics
Triumph Therapeutics
https://www.triumphtherapeutics.com/wp-content/uploads/2022/01/Triumph-Therapeutics-Speech-Therapy-OT-Physcial-Therapist-Washington-DC-Jan02-01-2022.jpg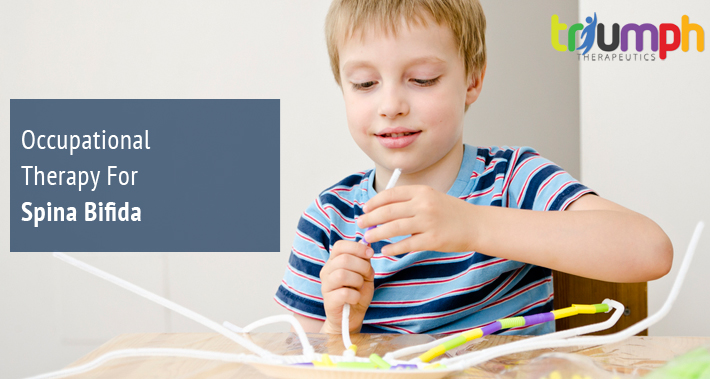 Spina bifida is a congenital condition that can affect the development of your child.
The good news is that pediatric occupational therapy is a great resource to use to support your child's development.
Occupational therapy can teach your child how best to overcome their personal, physical challenges in order to give them the best chance of leading an independent, full life.
If you're looking for pediatric occupational therapy services near me in Washington DC, Triumph Therapeutics is here for you.
We also offer physical therapy and speech therapy treatments.
But for now, let's take a closer look at spina bifida.
What Is Spina Bifida?
Spina bifida is a birth defect that happens when your spine and spinal cord don't form properly.
You can consider it to be a type of neural tube defect.
The neural tube is the structure in an embryo that develops into the baby's brain, spinal cord, and the tissues that enclose them.
This process is normally complete by the 28th day after conception.
But, babies with spina bifida don't complete this process at all, which is what causes the defect.
Depending on the severity of the defect, spina bifida can range from mild to severe.
Because of the nature of this birth defect, early treatment for spina bifida often involves surgery.
Surgery can be an effective solution, but it doesn't always solve the problem.
What Are The Symptoms Of Spina Bifida?
The symptoms of spina bifida can be loosely classified according to the type of defect that your child has.
For example, spina bifida occulta doesn't involve the spinal nerves.
As a result, there aren't any clear symptoms in your newborn visible without an MRI or spinal ultrasound.
Although, you might sometimes see above the spinal defect an abnormal tuft of hair, small dimple, or birthmark.
If your newborn has myelomeningocele spina bifida, then the symptoms you'll see are:
Their membranes, spinal cord, or nerves poke out at birth, forming a sac
Their spinal canal is not sealed by their skin along several vertebrae in their lower or middle back
How Can Spina Bifida Affect Your Child's Development?
The effect spina bifida has on your child's development will depend on the severity of the condition.
Spina bifida occulta often doesn't affect your child at all.
But, if your child has myelomeningocele spina bifida then irreparable nerve damage has already occured and will require ongoing care from a team of specialists including physicians, therapists, nutritionists, and occupational therapists.
Some other ways that spina bifida can affect your child's development include:
Walking and mobility impairment
Incontinence
Skin problems
GI issues
Unique nutritional requirements
What Causes Spina Bifida?
There's no direct cause of spina bifida.
But, there are a mix of risk factors that can increase its chances.
Some risk factors include:
Folate deficiency
Genetic history of neural tube defects
Certain medications taken during pregnancy, like valproic acid
Diabetes
Obesity
Increased body temperature during the early weeks of pregnancy
How Can Pediatric Occupational Therapy For Spina Bifida Help?
There are a number of ways that a pediatric occupational therapist can help your child for spina bifida.
Specifically, they will focus on working with your child to overcome any challenges that spina bifida presents in their life.
In most cases, spina bifida is diagnosed through blood tests and ultrasound while baby is in utero, so a pediatric occupational therapy evaluation will focus on how spina bifida affects your child in particular.
Let's dive into some examples below.
1. Using Play As A Developmental Tool
One great exercise your pediatric occupational therapist can do is to use play as a developmental tool.
By involving your child in fun, play-based activities they can support their emotional, physical, and cognitive development.
2. Coping With Sensory Overwhelm
Teaching your child to cope when they are overwhelmed by their environment is a very important thing.
This way, whenever they are having challenges from being in a noisy environment or experiencing difficulties with food textures, they are prepared and can manage themselves.
In some ways this mirrors occupational therapy treatments for sensory processing disorder.
3. Using Assistive Technology
Assistive technology can help your child with a wide range of daily activities.
Your pediatric occupational therapist can teach both you and your child how to use the technology best suited to your child.
Some examples include bathing equipment, sleep equipment, adaptive seating equipment, writing aids, and toileting aids.
4. Fine Motor Skills Development
Fine motor skills development is crucial to all children.
Your pediatric occupational therapist will teach your child strategies designed to develop their upper limb and hand function.
This will support their ability to undertake daily tasks like writing, and playing.
5. Learning To Use The Toilet
Finally, learning to use the toilet is an important developmental milestone.
Because spina bifida can cause incontinence, your pediatric occupational therapist can teach your child strategies that support their toileting and continence needs.
Book Your Appointment With Triumph Therapeutics Today
As you can see, there's a wide range of benefits that contacting a pediatric occupational therapist can have on your child's development.
This is even more important if they have spinal bifida.
The goal of pediatric occupational therapy is to support your child's development into an independent and self sufficient adult.
Book an appointment today with Triumph Therapeutics to schedule an evaluation.