Pediatric Physical Therapists, Speech Language Therapists, and Occupational Therapists For Children and Adolescents
Welcome to Triumph Therapeutics. We are a team of highly experienced pediatric therapists specializing in physical therapy, speech language therapy, and occupation therapy for children, adolescents and their families as they work to reach their growth and wellness goals in the Bethesda, Chevy Chase, and greater Washington, D.C. area.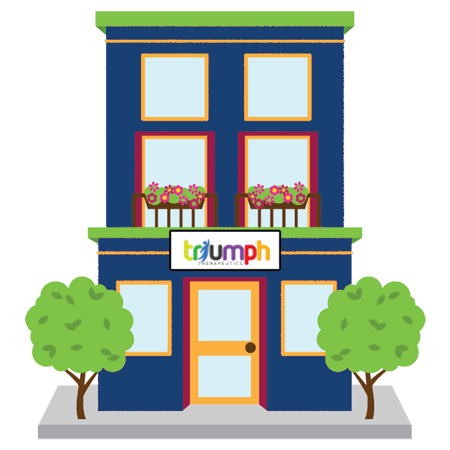 Visit our new state of the art pediatric therapy clinic for your free speech language therapy, physical therapy or occupational therapy screening.
BE TRIUMPHANT AT LIFE
Triumph Therapeutics is dedicated to helping children live their lives to the fullest. We specialize in the small triumphs of life!
Triumph Therapy
Welcome to Triumph Therapeutics! We specialize in occupational therapy, physical therapy, and speech therapy for children. We offer flexibility in treatment locations – schedule an appointment today at our Pediatric Center or we can visit you remotely.
We had a wonderful experience at Triumph Therapeutics, with Dr. Nathalia Sanchez and the whole Triumph team. We brought our son in at just 8 weeks, and he was assessed and treated

...

with the utmost care and safety. He completed his PT successfully, and we all enjoyed our time in office. Highly recommend!

read more
I just want to start off by saying I'm so incredibly thankful for the staff of Triumph. When we first started coming 4 months ago, I was near my breaking point with my 3 year old

...

son. He could barely talk, his impulse control was at zero, and his behavior was unimaginable. Through the patience of Mr. Lou, Ms. Jasmine and Ms. Mckenna we have seen a complete 180. My son now listens to me, effectively communicates his needs/wants and can even sit down for more than a minute to focus on a task. He is so much happier and has far more good days than bad. We love the entire staff and recommend this facility to anyone and everyone who needs specialized care for their children's needs. If you are looking for a safe, fun and inclusive facility, there is no need to look any further.

read more
This is a fantastic place. They helped me son learn to walk and were incredibly supportive during the whole process. Highly recommend!
Reviews don't lie ! They are truly amazing.. all of the therapists and all of the staff. Front desk is friendly and helpful. They are pretty flexible and able to accommodate.

...

Most importantly, it working to help our daughter walk - a big thanks to her PT nathalia

read more
My son has been attending Triumph Therapeutics for a couple months now and I am very pleased with the services provided. Their intake process and detailed evaluations are superb.

...

They essentially provide a roadmap for care that walks you through each of your child's goals. Their approach is very child centered, play based and focuses on "meeting the child where they are", which is key when dealing with a very rambunctious and stubborn toddler. Over the last several months, we have noticed remarkable improvement in fine motor skills and attentiveness to activities. Dr. Omololu aka "Dr. Lou" has the patience of a saint and works hard to ensure that my son is working on his goals, while also making him feel safe and understood. Dr. Lou is very passionate, and you can tell that he enjoys what he is doing and working with kids.Moreover, the entire staff is amazing, warm and welcoming. I called around to several places when I initially sought occupational therapy for my son. Mr. Ivan, who does intake and manages the front desk, was a breath of fresh air from the first conversation. He was super supportive and patient in answering all of our initial questions and took the time to explain to us the processes for services.Lastly, the environment is a true "vibe." The play space is amazing, and my son generally runs into the office as soon as we arrive. The décor is colorful, warm, welcoming and very kid friendly.If you're looking for place that treats your child like a "kid" and not just a "client", I would highly recommend Triumph Therapeutics!

read more
We've had a wonderful experience with Triumph. The staff is the best, particularly Natalia (PT) and Ivan. Very easy to work with. Would certainly recommend.
This place has made a wonderful difference in my son in only a short time.
My son has been seeing Ms. Jasmine for several months and has shown marked improvement in being in tune with his feelings and controlling his body. Highly recommend Triumph to

...

anyone.

read more
I absolutely love Triumphant Therapeutics! Within the first few weeks of my son starting speech therapy here, he began pronouncing and learning so many new words! My sons

...

therapist listened to my concerns and then came up with the perfect plan on how to help him. The front desk is always so kind and professional and the office is very welcoming and clean. If you're considering receiving therapy services in Washington D.C., I highly recommend Triumphant Therapeutics. You will NOT be disappointed.

read more
The staff here are amazing! Caring, fun, and dedicated to each patient in a loving way. Would highly recommend!
Dr. Lou is the BEST! He works so well with my son Harry.
Easy scheduling. Amazingly friendly staff. Great results.
Triumph Therapeutics is a great OT place! Dr. Lou has been providing OT to my son for the last few months and my son really enjoys going there and the results are great!
I don't think there are words right enough to put down to accurately describe Triumph Therapeutics and the environment Mr. Lu and his staff have created. There is usually

...

something wrong at a doctor's office, a nurse, a secretary, another doc, but not here. From Mr. Lu, to Mr. Ivan, to Ms. Jasmine (the OT my child works directly with), they are all invested in her success and mine as the parent as well!I love how they give you practical things to help your child have success at home. The environment is uplifting as well and even if you don't come in with a smile on your face, you sure will leave with one whether as a parent or child. You can feel the love and care as soon as you walk in the door. We have been to various therapy places for a few years now and while they were nice, this place will be our therapy home.

read more
If I could give this place more than 5 stars, I would. My daughter has been attending Triumph Therapeutics for a couple months now and I must say it's been an amazing experience.

...

After her first month there, I noticed so much improvement with her speech. They really do care about the children that walk through their doors. The whole staff has been beyond great. They always have a positive attitude and give great communication. I am a happy momma. To see how my child is improving and growing with their help, truly warms my heart. Any concerns that I had, they listened to and provided all the services that my baby girl needed.Egypt loves her therapist, Ms. McKenna. My daughter had a hard time pronouncing some letter sounds and words due to her overbite. Since working with Ms. McKenna, I've not only noticed improvement with her speech but I've also seen my daughter grow a lot of confidence now when she speaks. I have Ms. McKenna to thank for that. In addition, while working with Ms. McKenna, she noticed that my daughter also needed occupational therapy along with her speech therapy. She communicated to me and my mom her concerns and made sure my daughter received the extra help that she needed.I will like to also shoutout the practice owner, Mr. Lou. He is so sweet and caring of the children and families. I will like to add that the atmosphere of this place is awesome too. I love all the colors and equipment that they have for the children. It looks so fun in there. They have everything a kid would enjoy. Also, the place is always clean. I'm sure every parent would appreciate that.If you are a parent looking for services for your child, this is the place to bring your child. I am a super picky parent when it comes to my children. With that said, that means I always want the best for them; so because of that, I chose Triumph Therapeutics. If you don't believe this post, go see and experience this place for yourself! I promise you won't be disappointed!

read more
There are not enough nice things to say about Triumph Therapeutics and Omololu (Mr. Lu). Mr. Lu provides our son with essential skills but makes each session fun and engaging. He

...

is smart, kind and deeply skilled. His entire team is equally talented. Cannot recommend Triumph more highly!

read more
We were referred here by our neurologist for our soon to be 2 year old who has a speech delay. I could NOT recommend this place more. From the front staff to the overall vibe of

...

the office- they really make kids (and parents) feel welcome and safe. We worked with both Erica for PT and McKenna for Speech Therapy. Both are super knowledgeable and helped break down the entire process as well as each activity.

read more
We are having a very positive experience with Triumph Therapeutics and especially with Nathalia's physical therapy. Under her coaching and gentle guidance, our child is building

...

strength in her legs, improving her balance, gaining overall self-confidence, and having great fun while doing so. We feel encouraged by her progress! Nathalia has a gift for combining our child's sense of play with getting the thearapy done, and is skilled at redirecting her during moments of distraction. We recommend Nathalia and the whole Triumph team for being warm, supportive, and responsive.

read more
Our child worked with Speech-Language Pathologist Ms. McKenna for a few months and we saw results within that short timeframe. Our child started with barely 4 spoken words and

...

over the course of two months, our child is now more receptive and tries to repeat words we say, like ball, colors, and even imitates noises heard, like horns honking and other loud noises. We had a great time with Triumph and would recommend it.

read more
McKenna has worked so well with my 6 year old son. She engages him and keeps him coming back to week after week to work on his speech.
Our son is three and was recently diagnosed with ADHD and he is a sensory seeking child. His doctor referred us to Triumph Therapeutics and we couldn't be happier. Our son has

...

worked with Ms. Mikayla, Ms. Jasmine, and Dr. Omololu. When we brought him here he was incredibly hyperactive and struggled with focusing and completing tasks. They have been working with him for about 1.5 months and he had come so far already. They have been able to get him to sit for about ten minutes (sometimes longer) and actually complete tasks. They also built a sensory diet for him that we implemented at home and it has drastically helped him. I would highly recommend Triumph Therapeutics!

read more
Dr. Omololu and the Triumph team have been a wonderful resource for our kids coming out of covid isolation. He, jasmine and michaela have helped them focus on coordination &

...

balance, fine motor skills, and self management during collaborative play. They've made great progress and have fun every time. We are truly grateful

read more
Our daughter worked with Dr. Erica, DPT, for roughly four months in order to learn to walk. The staff at Triumph Therapeutics are skilled, warm, and communicative. Dr. Erica

...

provided excellent family-centered care. She was patient with both our daughter, who found physical therapy challenging, and my husband and me, who asked many questions. Dr. Erica always provided thorough answers to questions, as well as directed us toward evidence-based resources. She also took the time to put together personalized exercises we could do with our daughter to help her progress at home. Our daughter learned to run after working with Dr. Erica. Special thank you to Dr. Erica, Dr. Omololu, and Triumph staff!

read more
My child LOVES coming to Triumph. It's the highlight of his week. He's shown great progress over a short period of time and the staff is great. We highly recommend Triumph if you

...

are looking for OT in the DC area.

read more
Erica Law has been an amazing resource for my daughter. We began working with her when my daughter showed delays with motor skills at 10 months.Erica has the professional

...

knowledge to guide my daughter's development. But more than that she has the people skills to help our family feel comfortable and capable of navigating our daughter's needs. She helped us understand our daughter's roadmap and how we can support her. I honestly don't know what we would have done without her. She's fab and I am so grateful our paths crossed.

read more
The administrative staff is always willing to assist, and they provide responses in a timely manner. The resources that Mr. Omololu and his team provide for speech and

...

occupational therapists are second to none. Both the administrative space and the areas occupied by the children are clean at all times. As a medical physician, I have seen lots of improvements in people with injuries, disabilities, and developmental delays improve significantly under the management of Omololu and his team. More importantly, I like the way they evaluate, plan, organize, and conduct rehabilitative programs that seek to develop or restore important living skills and improve general independence. Kudos!! Continue the good work.

read more
We had a great experience at Triumph with our son who made great improvements over the 3 months we were engaged in occupational therapy. His grasp pattern, his ability to cut, and

...

his sitting posture all improved since the initial evaluation. We especially loved the owner (Dr. Omololu) and his therapist, Jasmine. Thanks for all of the help and encouragement you gave us through this process!

read more
We have had a wonderful experience with Triumph. Our son's therapist, Jasmine, is excellent, as is the owner Omololu. Very warm, professional, and organized.
Erica was absolutely wonderful!! She worked with us to make sure our baby achieved all the important milestones, and was a great help in coaching us so we could continue the work

...

on our own. Our pediatrician recommended her and thanks to Erica, our baby is doing great!

read more
The team at Triump Theraputics are truly amazing! Front desk is very helpful and professional but with a familiar touch to them. Their cute facility is clean and inviting and very

...

interactive.Erica Law is my sons PT for quite some time now and she knows her stuff! Not only does she know what she's doing and is very well educated in her field but she helps you with continued home care in between appointments. She has also gone out of her way to send tips and videos for my sons care if needed and responds to my emails quite quickly. I love them there and would highly recommend pediatric therapy treatment here!

read more
Omololu (Owner) of Triumph Therapeutics is by far, one of the most skilled therapist you will ever work with. He has a rare blend of technical/practical knowledge that coincides

...

with a great bedside manner that helps parents easily understand what their child is doing in therapy and how to support it at home to receive optimal results. He has provided care to our 8 year son for 4 sessions. As a result of his participation with Omolulu, his handwriting has improved, he can sit and attend to a task for a longer periods of time, and his overall academic performance has improved at school. I would recommend Omolulu to anyone who could use his skills and technique for Occupational Therapy. Triumph Therapeutics has far exceeded all of our expectations!

read more
This place is awesome! Two of my boys are currently doing speech therapy with McKenna and look forward to their visit every time! And after just one appointment I noticed some

...

great improvements in my older son's speech! I look forward to how they will continue to learn and grow here! One of my sons also does occupational therapy with Jasmine and he is growing in his ability to regulate his emotions. I am so thankful to Omololu for starting this fantastic practice and creating such a child-friendly environment. And the fact that they accepted my insurance made it possible to receive care here!! Oh and also wanted to give a shout-out to Ivan who makes scheduling easy and gives us a warm welcome when we come each week!

read more
Listen- I don't even know where to start. My whole experience with Triumph has been nothing short of amazing.The suite is vibrant and welcoming to little ones. I feel safe when

...

I come in with the steps they implement during the pandemic. I feel like sessions are times in a way that keep safety a priority.Mr Ivan is so caring and accomodating, and really good with my kiddo when he runs behind the desk. He has such fun ideas for things to do in the area that our little one could benefit from.Ms. Cora, our SLP is super sweet, compassionate and VERY patient with my active 2 yr old. She gives amazing feedback and is so reassuring. We all want to know that our children are making the strides they should, and she makes sure we have the equipment we need to strengthen areas ourside of our therapy sessions.Mr Lou is one of a kind. He's VERY accomodating, thoughtful and reassuring. He truly loves what he does and it shows. The whole Triumph team couldn't have a better leader.I have said this to them- but will day it here also- I have found a home at Truimph Therapeutics. If you need OT, PT or ST- you'd be in wonderful hands!

read more
My wife and I were genuinely impressed with Dr. Erica and the rest of the Triumph staff with the service they provided our son! We would recommend them without hesitation.
We've had a great experience here and highly recommend it. Mr. Lu works great with our kid and has made a difference.
I love Triumph. They are so good with my son and patient with the parents. Ms. Amy was the sweetest and gave me so much information on what I could do at home to help him excel

...

with his reading and handwriting. Mr Lou is personable and funny. The environment is open, friendly and relaxed. My favorite part of every visit is Ivan and how they treat each child like family. Any parent thinking of bringing their child here will be very happy and confident that they'll get the best treatment.

read more
My daughter has been going for OT and PT to Triumph Therapeutics for 6 months. She has gotten stronger and more focused. It is a pleasure to work with the Triumph team, including

...

Omololu; the OT therapists Emilee and Sam and her PT, Erica. We not only appreciate her face to face sessions but the feedback to our Home Exercise Plan.

read more
My daughter wasn't crawling on hands and knees at 11 months old and wasn't using both sides of her body equally, so her pediatrician recommended us to Triumph. Erica worked with

...

my daughter and gave her (and me) tools to encourage and help her at home. Within two weeks she was pushing up to hands and knees and crawling, I was FLOORED. Erica showed me simple techniques I would never have thought of, and they were very effective. I'd definitely recommend Triumph! They also offered virtual sessions when my daughter was sick one week. Great experience!

read more
I would recommend Triumph to anyone! Lu and his team are fantastic from intake through therapeutic services and are just the sort of people you want to run into if you are sorting

...

through a sensitive issue like a challenge with your child.I called Triumph alongside several options in the community and it was a very easy choice. Ivan, the intake professional, was kind and supportive and the owner, Lu, was equally so. He took the time to call me and determine our needs and he really went the extra mile to create a plan that worked for our family including in-home services. This was extremely critical for us in the context of the pandemic.Finally and probably most importantly, our kid looooves working with the team. They know how to use play-based methods to make everything so fun, that he has no clue he is in therapy or doing hard exercise. He gets excited about doing it and never shows that same level of cooperation for us.I look forward to continuing our work with Triumph.

read more
The whole team at Triumph Therapeutics was pleasant and professional. My daughter was seeing Erika the PT for a couple of weeks. Erika's timeline and assessments were just. She

...

provided targeted exercices for my child and helped her meet her goals. I appreciated her honesty, her objectivity, and her patience. I Would whole heartedly recommend Triumph Therapeutics to anyone whose child is behind on their gross motor development.

read more
We have referred many patients to this group, including our own staff with their children. All have had wonderful experiences, especially with their lead occupational therapist,

...

Omololu Majekodunmi. We are als so grateful to have a group that is accessible to patients with an array of different health insurance plans. Thank you!

read more
Highly recommend Triumph Therapeutics. We had a great experience with Erica Law. She was patient and attentive with my infant. She made sure we understood how to best performed

...

the exercises at home, helped us find way to adapt them to our space, send us supporting materials and videos and was responsive to follow up questions when needed. The office is welcoming and colorful. Very pleased with our experience and interaction with the whole team.

read more
The staff at Triumph are very knowledgeable and nice. My client loves coming for her sessions and has seen amazing improvements!
Our family can't say enough good things about Dr. Erica Law. She is direct yet kind; thoughtful in her approach and flexible in the moment. Our 1-year old daughter made huge

...

strides after only ONE session with Erica, and has continued getting stronger and more confident as the weeks and months have gone by and our work with Erica continues. The entire team at Triumph Therapeutics is a joy to be around and the office is clean, fun, bright, and well equipped. If you are considering pediatric physical therapy, Triumph and Erica are the best of the best!

read more
We had a great experience here. Both of my children worked with Erica Law DPT on sports-related injuries. Erica was just wonderful to work with, connected well with my kids, and

...

helped both of them improve quickly. The office staff was very friendly and helpful too. I would definitely recommend Erica and Triumph Therapeutics for PT needs.

read more
Dr. Erica Law was recommended to me by a friend. Cannot recommend her enough. Dr. Erica is incredibly patient, kind and does a great job of explaining everything on a level we can

...

understand. Really helped my family out a ton and cannot thank her enough for what she has given us!!!

read more
Excellent experience with Emilee, who is very caring detail-oriented, and skilled at working with children. Highly recommend.
I just listened to an online presentation put on by Samantha Tobon and Erica Law from Triumph Therapeutics on torticollis and plagiocephaly, and it was amazing!! Very informative

...

and engaging! I will definitely tune in to another presentation put on again by Triumph Therapeutics!

read more
Simply extraordinary. The staff are terrific, the facility is wonderful, and everything about Triumph is top-notch. Our daughter has worked with most of the therapists

...

here—including both physical and occupational therapists—and has had an outstanding experience. Not only has she made great strides, but she also absolutely loves it, as going to PT/OT is always a highlight of her week!

read more
We found Triumph per our pediatrician recommendation. Our visits experiences so far have been nothing but great. The staff is friendly, attentive and have always responded (via

...

phone and email) promptly. The office facility is full of innovative tools and toys to keep the little ones entertained while exercising.Dr Erica Law is our PT and we love her. She is professional, knowledgeable and educate us during every session to keep helping our baby thrive (she has torticollis). She also follows us and makes sure we stay on track with the exercises. We definitely recommend Triumph Therapeutics!

read more
Triumph Therapeutics is a treasure! They provide an exceptional and unique level of care, quality, and engaging atmosphere for children. Highlights include the fun factory gym,

...

the convivial receptionist Ivan, the amazing therapists from different disciplines, and the CEO Omololu who has so much passion for helping our community's children grow and succeed. What also impresses me about this office is its youthful character and design, which kids absolutely love. This isn't your typical stuffy doctor's office! Highly recommended and I really admire the service they are providing to young people in the DMV area.

read more
This is a world class OT experience! From the moment my kids walked through the door they are engaged and love learning new life skills. My children are now trying new foods and

...

writing short sentences. Truly a great place!

read more
This is such an amazing practice. The therapists are skilled and empathetic, and the space is open, bright and welcoming. Mr. Lou is the owner and he has created an OT oasis in

...

Spring Valley. They are a great part of the community and will be for years to come!

read more
Ms.Sam is the absolute best my son loves her. She's so patient, consistent, and reliable. He really looks forward to Monday's 😉 I like how the company sends email reminders

...

that's very helpful. Overall I love the company I've never had a problem I've been working with this company for two years now it's great.

read more
Let me start by thanking Triumph, my 3year old has just begun her journey recently. When you first make contact everyone is amazing and that first impression remains constant. My

...

daughter has said her name maybe 3-4 times in 2 years. After just a few sessions she has said it 2 times a week. This is where you want you child to be! Her small victories are definitely adding up to her big "TRIUMPH"!!!!!'

read more
I highly recommend therapy here!My son loves it at therapy! He is mindful of the days he goes because he'll say, "OT" first thing that morning.

...

🤸🏽‍♀️😆 That is always a good sign!!They have a large fun play space with climbing walls, a zip line, swings, mini slides, etc. They have small rooms for work activities where some children may do better there.Everybody here is so friendly from Ivan at the front desk to each therapist we have seen here (Omololu, Samantha, and Cora). They are open to working with the individual child and the parent to determine strategies that works best. They've also got WiFi while you wait.

read more
I had a good feeling about Triumph from the start. The staff was friendly and interested in welcoming my daughter and making things work. The first visit was a surprise because

...

the space was really fun and designed as a playspace complete with two climbing walls and therapeutic swings and monkey bars, toys and more toys. We call it the Play Place now and my kid asks when she gets to go. She doesn't want to leave after any session because it's so much fun. Both the OT and Speech Therapist provide hours that are great including Saturday Speech Therapy. The owner is really passionate about what he's doing and has a vision of helping people beyond our borders. Finding a place for help that your kid wants to go to and doesn't want to leave because it's so much fun is an absolute win. Thank you Triumph for the victories and progress as our care team.

read more
They are doing amazing work with my daughter and I'm so great full if your kids or anyone need therapy they are the ones to go to.
Love love love Ms Samantha and the rest of the team. The best review comes from my three year old who runs and squeals when understands where we're going.
Triumph pediatrics is a great place for autistic kids and kids with special needs. My son runs full speed ahead as soon as he turns the corner, he loves his therapist Ms

...

Samantha and my wife and I love her, Mr Ivan and the rest of the staff. They are child centered and work so hard to make sure that my son's needs are met without resorting to problematic tactics. I can't recommend this place enough.

read more
My son loves going to OT at Triumph! This place is awesome and as the owner said he made it a place kids would not want to leave. He succeeded. My son runs here on Friday

...

afternoon for his sessions. It is a wonderfully welcoming place for all families and Sam is always finding ways to engage my son and make it fun and challenging for him. If you are looking for a place that is child focused and cooperative this is the place.

read more
As a new parent, Triumph Therapeutics has been amazing in helping my son with his torticollis. Laura has been so patient with my 4 month old son with all his stretching and

...

exercises because 4 month olds are not the most cooperative! The space is super colorful and has so much for the kids to interact with! They take COVID protocols very seriously and keep everything super clean between patients. Ivan is very welcoming at the front desk and super responsive on the phone or email when scheduling changes need to be made (again babies make things unpredictable!). Definitely recommend for infant/pediatric physical therapy!!

read more
We couldn't say enough great things about Triumph Therapeutics! After just a few sessions Laura got our son " back on track" with his gross motor skills. The facility is really

...

like a play zone! In addition to the weekly sessions we were given great suggestions to continue our "training" at home. The entire Triumph team is wonderful, communicative and extremely supportive! I cannot recommend them enough

read more
Excellent set up and very nice, professional staff. Good schedule availability and the therapist works very well with our toddler, gives us excellent guidance for doing the

...

relevant exercises at home. Also very good at identifying complementary treatments to explore.

read more
We feel so fortunate to be working with TTP. Our son has made huge progress since we started working with Omolulu, and the staff is warm, knowledgeable, and flexible. We highly

...

recommend to any other families in the DC area!

read more
The Staff at TT could not be more uplifting with the difficulties parents face with special needs!!!I always feel at ease entering their beautifully designed studio knowing my

...

son and daughter get instantly excited to be there for therapy!Even if my kids come in moody the staff perks them up with an awesome gym zip line swing & friendly warm smiles! Never an awkward silence as our son has a tantrum! The Owner also is super sweet to let my daughter play on the gym while she waits for my son to finish his session! Great place to sign up for much needed support!

read more
It was definitely a challenge finding services during the pandemic. My son has been experiencing delays and regressions due to distance learning for the past few months. Triumph

...

Therapeutics was not only open and accepting new kids, they were more than accommodating and safe! We are working with them in OT and PT services and possible Speech going forward. The facility is in a great location, and the office is friendly and inviting- with bright colors and well organized. While there are multiple therapist and clients they serve, there has never been a crowd or a lot of people in the office, we've only experienced one on one VIP care. Masks are mandatory, temperature checks and hand sanitizer is available. I appreciate the effort to remain open during these challenging times and the cleanliness of the office.

read more
Omololu & the team at Triumph Therapeutics are truly top notch. Their space is a perfect blend of modern and clean while also being kid-friendly and functional. I was greeted by

...

Ivan upon entering and the positive energy he provided was unparalleled. You couldn't help but smile and feel at ease. Omololu was extremely kind and knowledgeable. The whole experience you will receive at Triumph Therapeutics is excellent and I highly recommend them to anyone looking for a pediatric therapist!

read more
Honestly, I was hesitant when my wife suggested we send our daughter to TTP. I was unsure of the purpose or real need. After our first visit I was convinced this was the right

...

choice. The saff is friendly and the facility is amazing! It's a kids dream with lots to do an a ton of productive activities.

read more
I attended the open house and was very impressed. I interacted with the owner and few of the therapists as well as the front desk staff. Overall super friendly and high energy.

...

The space is very colorful and definitely stimulating environment for the kids. I was particularly impressed with the technology they had for assessments and treatments. I highly recommend.

read more
My two boys and I love everything about Triumph Therapy Pediatric Center! Mr. Omololu is very knowledgeable, patient, and gentle when administering various therapeutic techniques,

...

and the space is extremely child friendly, especially for my youngest son who just began walking. In addition, Dr. Falcon, the Physical Therapist, took the time to explain all the various pieces of equipment and assessments used during each session. What a blessing it is to have Triumph Therapy Pediatric Center right here in the Spring Valley area!

read more
I attended the open house for Triumph Pediatric Center last week and was blown away! The staff, especially the owner Omololu, were very knowledgeable about pediatric therapy and

...

the facility was like none other - especially the Fun Factory sensory gym! I highly recommend!

read more
Days Triumph is closed / Snow Policy
In the event of inclement weather such as snow, Triumph will open at 12:00pm. If your child is appropriate, morning clients will be transitioned to teletherapy sessions. The therapist will send out a zoom link that morning.
New Year's Day (January 1st)

Martin Luther King Jr. Day (Monday Jan 17)

Memorial Day (Last Monday in May)

Independence Day (July 4)

Labor Day (First Monday in September)

Thanksgiving Day (Fourth Thursday in November)

Thanksgiving business day after

Christmas Day (December 25)

Christmas Day business day after