Pediatric Physical Therapists, Speech Language Therapists, and Occupational Therapists For Children and Adolescents
Welcome to Triumph Therapeutics. We are a team of highly experienced pediatric therapists specializing in physical therapy, speech language therapy, and occupation therapy for children, adolescents and their families as they work to reach their growth and wellness goals in the Bethesda, Chevy Chase, and greater Washington, D.C. area.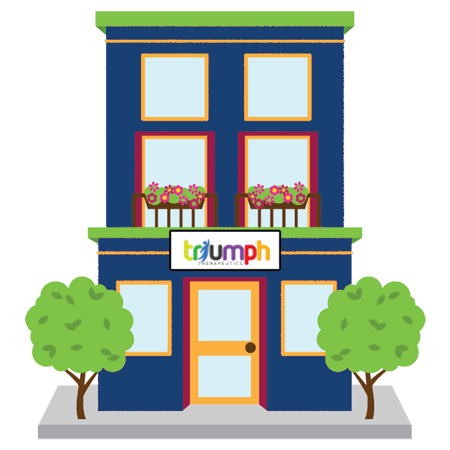 Visit our new state of the art pediatric therapy clinic for your free speech language therapy, physical therapy or occupational therapy screening.
BE TRIUMPHANT AT LIFE
Triumph Therapeutics is dedicated to helping children live their lives to the fullest. We specialize in the small triumphs of life!
Triumph Therapy
Welcome to Triumph Therapeutics! We specialize in occupational therapy, physical therapy, and speech therapy for children. We offer flexibility in treatment locations – schedule an appointment today at our Pediatric Center or we can visit you remotely.
My 3 year old started occupational therapy with Ms. Donna in June. In just a few short months, simple fine mortor skills have become easier for her. She has learned coping skills

...

for when she becomes frustrated and is now able to work through those frustrations when she is faced with difficult tasks. She is using more vocabulary daily and is even greeting everyone when we go into our appointments. The one change that i noticed the most is how much confidence she has. I didnt realize she was lacking it. She is more sure of herself and is wanting to be independent. She's doing better in school as well, and is engaging with the other children. Morning drop offs have become easier for her. She is willing to play, and is no longer afraid to go down the tallest slide or climb the ladder. The therapy my daughter has received has helped in so many ways and I couldn't be more greatful. I appreciate the kindness of all the the staff members and the patience that Ms. Donna has shown my daughter. I highly recommend triumph therapeutics.

read more
We started seeing Ms Nathalia Sanchez when our daughter turned 12 months because of her gross motor delays. When we had our initial evaluation, our daughter was only crawling

...

backwards and was barely able to move forward. With the wonderful support and services from Ms Nathalia and the rest of the Triumph Therapeutics team, our daughter worked on her crawling, standing, and walking milestones in 8 months! By the time she was 19 months, she reached the average level of gross motor skills of her peers. It was such a momentous achievement - and we no doubt thank the team at Triumph for helping our daughter develop! I would highly recommend this wonderful office if you're looking for pediatric PT.

read more
Triumph Pediatrics has been a wonderful community that has supported our boys through the process of addressing toe walking. Nathalia is wonderful and the staff is really

...

supportive.

read more
So far, I am a big fan! It's in a nice area. They have a diverse staff that greet you with a smile. If they miss your call, they get right back to you. They are receptive to your

...

wants and needs. Not to mention, I like the set up where the sessions take place.

read more
L'équipe de M. Lou est super accessible, diversifiée et très professionnelle. L'emplacement et le cadre sont parfaits. Un grand merci pour de très bons résultats ! Je recommande

...

chaudement.

read more
My daughter have been receiving care at this clinic for a few months now and she's getting adjusted to it. The staff and facility is amazingly. Their extremely attentive and hands

...

on.

read more
Triumph Therapeutic is amazing, my son has grown so much from attending his sessions. The staff members are great, kind, inviting, and very helpful. The speech therapist does work

...

well with the kids and the owner is engaging with clients. Overall this place is amazing!

read more
have y'all been to Triumph yet?! Walking in the door it's an automatic warm colorful inviting environment. And guess what. They have a therapy dog named Bailee. My kids love this

...

place. Is it therapy or is it a magical place that teaches my kids how to be their best selves.

read more
Love love love Ms Samantha and the rest of the team. The best review comes from my three year old who runs and squeals when he understands where we're going.
Hello just wanted to say a few words for how Triumph Therapeutics has helped my son Demarie become more confident. My son had started occupational therapy in Aug and was trying to

...

figure out his way. But what I see is with each session it activates new range in motion that his willing to try. That he didn't try before the therapy began. It's amazing once you start the therapy how they will show growth in other areas. So I would definitely recommend them if you are on the fence on who to chose in the area. Thanks again.

read more
This place is absolutely amazing! My son has been coming to Triumph for Speech Therapy for about almost 2 years now and his speech has improved tremendously! McKenna has been very

...

patient and very supportive. The space itself is gorgeous with lots of props for the kiddies to stay focused during sessions. I would recommend Omololu and this team 100%!

read more
It's hard overstate how great our experience has been at Triumph. From the owner, who sets the tone, to the instructors, who have made our stubborn 5 yo love physical and

...

occupational therapy, to the folks at the front desk, who are kind and on the ball, everyone at Triumph seems dedicated to helping our child improve, and to ensuring he has fun along the way.

read more
We came to Triumph after a frustrating and disappointing experience with the psychologists who initially diagnosed our child as being on the spectrum; their interactions with our

...

son were superficial and brusque. One of the first things that Dr. Lou told us was that they could work on assisting us with our child's sensory challenges but that he did not want to change who our child was; he valued neurodiversity. Dr. Lou was patient during the initial evaluation, despite our chid's sensory seeking behaviors. His words and actions that day really resonated with us.Six months in, we have seen significant improvement! For OT (Ms. Jasmine, Dr. Lou, and Ms. Camille) - our child is able to participate in non preferred activities for longer, he is much better at transitioning to new activities, and his grip on instruments has improved. For Speech (Ms. McKenna) - his vocabulary has increased, he is speaking in longer sentences, and his ability to distinguish between certain words (example: heavy vs hard) is getting better all of the time. After each session, the therapists share with us what they did during the session and they often give us suggestions for what to work on at home.A few reviews have mentioned this, so we will add to the chorus: the staff here is kind, considerate, and really fun. Mr. Ivan and Ms. Kendra are the literal best and Bailee is an instant mood elevator. The staff have created a wonderful space for therapy. The office is thoughtfully and intentionally joyful. The decor has changed a few times since our son began attending therapy, but each theme has been engaging and educational. Our son loves going to therapy. We highly recommend Triumph.

read more
Amazing place! I have been coming for my daughter's speech therapy for 2 years and I have always had aa good experience with them. She sees Mckenna, who has been amazing- she

...

loves coming to her therapy every week. Everyone is so friendly and welcoming, starting from the front desk, to the therapists and the management. I highly recommend them!

read more
Excellent team, personalized professional care and best location!What else can you ask for?
Our child has been getting OT at Triumph for 6 months, and also participated in a social skills group at Mr. Lou's suggestion. We could not be more impressed with our experience

...

at Triumph. Our son's therapists are knowledgeable, kind, and always have suggestions to help us keep progress going at home. Mr. Lou does a great job communicating with parents and filling in whenever necessary. Ivan and Kendra at reception do more than just offer warm greetings—they are scheduling gurus and truly support parents through a Byzantine insurance process. They're amazing! Our son looks forward to his therapies and has made amazing progress with emotional regulation and flexible thinking. He is more confident, more adaptable, and happier. It truly has been amazing working with the Triumph team.

read more
Our daughter's daycare teachers recommended Triumph Therapeutics to us when our toddler was having trouble dealing with big feelings. She has been going for the past eight or so

...

months, and all the staff there has been incredible, including Ivan at the front desk! They have helped her develop techniques to control and talk about her emotions, and she has a great time there. Would strongly recommend to any other parents with similar challenges.

read more
We had a fantastic experience with PT at Triumph Therapeutics and would highly recommend it! We started seeing Nathalia Sanchez for PT when my daughter was diagnosed with

...

torticollis at 2 months old. Nathalia was warm, knowledgeable, supportive and immediately put us both at ease. We have been working with her for the past 10 months and my daughter has made so much progress and is hitting all of her physical milestones. Nathalia was a pleasure to work with every week, was understanding on days my daughter was fussy, and always kept us on track to be sure she was progressing. My daughter will be ready to 'graduate' from PT soon and we are going to miss working with Nathalia and the team at Triumph!

read more
Our daughter started seeing Nathalia Sanchez at Triumph Therapeutics for assistance with congenital torticollis when she was two-and-a-half months old. Nathalia is wonderful with

...

our daughter, incredibly patient, gentle, and soothing when she has hit her limit. In addition to the PT sessions, Nathalia provides us with at-home exercises to assist with our daughter's gross motor skills. This has really improved her neck strength and flexibility -- so much so, that we were able to reduce our visits from weekly to biweekly. Ivan and Kendra at the front desk always give us a warm welcome and are always accommodating when we need to reschedule or cancel a session. Highly recommend Triumph for those searching for pediatric therapy.

read more
My experience at Triumph Therapeutics was extremely positive. Ivan is very kind and helpful, and we worked specifically with Nathalia Sanchez for PT and couldn't have been

...

happier. She was professional, extremely knowledgeable and seemed to really enjoy her time with my daughter. She allowed my daughter (1yo) to warm up to her, was thorough in her assessment and tracked her development with great detail. Nathalia was also very thoughtful in writing out exercises for us to work on at home. The facilities are very clean, and we were able to take advantage of their newly expanded space for the final 2 appointments. Overall, would highly recommend!

read more
Triumph Therapeutics Washington, DCAfter an intensive search Triumph kept popping up. I reached out via phone and spoked with "the fantastic Ivan". Who assured me Triumph had

...

the services available to help us. As visitors to DC for just a short period of time we were still in need of some PT.And they didn't disappoint!From the moment you walk into TriumphTherapeutics space you see their dedication of care for children. The walls are decorated with such whimsy and delight making it so inviting and welcoming.We had the pleasure to be paired with the lovely Natalia. Who is simply amazing and gentle with her approach, touch and voice. Having worked with many PT's and OT's over many, many years. Natalia is not only professional but also clearly loves what she does and her work with babies and children. I can't recommend her enough to all but especially for parents with infants. Natalia is patient, thorough and her clarity with written instructions made clear how to continue with care at home. And when I had any confusion in regards Natalia, would go over the details again to help me better understand how to do the exercises with ease. Thank you Natalia Baby R and all of us are so pleased with your care and kindness.Also whilst there on one of our visit there was very rude child….And how Mr. Majekodunmi the owner of Triumph Therapeutics handle the situation was so well done and AMAZING!! Triumph Therapeutics even has a baby gate up at the front desk so that busy little ones keep safe.Thank you Triumph Therapeutics wishing you continued success and baby is doing great!

read more
My son has been going to triumph for the past year and he has improved in so many ways in both his speech and occupational needs. Mr Lu and the rest of the staff are always so

...

patient and accommodating with him. You truly join a family when you start therapy here and we are so grateful!Special kudos to the front desk staff Ms Kendra and Mr Ivan who are always very helpful

read more
Triumph Theraputics has been VERY helpful for our 3rd grader. He works with Mr. Lou (owner) and loves it. Mr. Lou has just the right combination of fun, firmness, and

...

patience!Our son has made significant progress with abdominal strength and fine motor work since the Fall and we plan to continue working with this practice!

read more
My experience with Triumph Therapeutics, specifically with Dr. Lou and Mr. Ivan has been amazing. We were referred to the practice by our pediatrician for some sensory issues. Dr.

...

Lou asked questions about our history and my son's symptoms without judgement which was really helpful and appreciated. It has been a few months and in that time Dr. Lou has fostered a relationship of trust and understanding with both me and my son. My son has made progress with his sensory issues and his meltdowns with certain clothing items have decreased.Mr. Ivan has been very helpful and has answered my frequent billing and insurance questions. I can honestly say I do not where we'd be without Dr. Lou and the help he has provided our family.

read more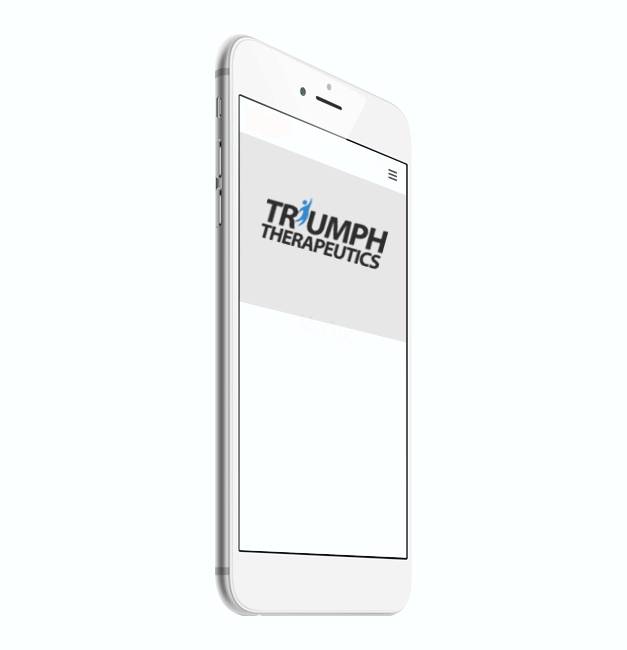 Days Triumph is closed / Snow Policy
In the event of inclement weather such as snow, Triumph will open at 12:00pm. If your child is appropriate, morning clients will be transitioned to teletherapy sessions. The therapist will send out a zoom link that morning.
New Year's Day (January 1st)

Martin Luther King Jr. Day (Monday Jan 17)

Memorial Day (Last Monday in May)

Independence Day (July 4)

Labor Day (First Monday in September)

Thanksgiving Day (Fourth Thursday in November)

Thanksgiving business day after

Christmas Day (December 25)

Christmas Day business day after