Pediatric Physical Therapists, Speech Language Therapists, and Occupational Therapists For Children and Adolescents
Welcome to Triumph Therapeutics. We are a team of highly experienced pediatric therapists specializing in physical therapy, speech language therapy, and occupation therapy for children, adolescents and their families as they work to reach their growth and wellness goals in the Bethesda, Chevy Chase, and greater Washington, D.C. area.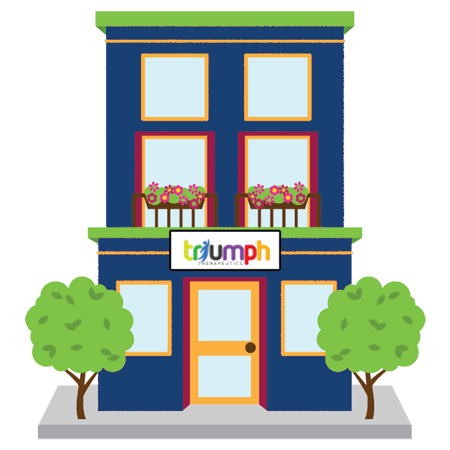 Visit our new state of the art pediatric therapy clinic for your free speech language therapy, physical therapy or occupational therapy screening.
BE TRIUMPHANT AT LIFE
Triumph Therapeutics is dedicated to helping children live their lives to the fullest. We specialize in the small triumphs of life!
Triumph Therapy
Welcome to Triumph Therapeutics! We specialize in occupational therapy, physical therapy, and speech therapy for children. We offer flexibility in treatment locations – schedule an appointment today at our Pediatric Center or we can visit you remotely.
My experience at Triumph Therapeutics was extremely positive. Ivan is very kind and helpful, and we worked specifically with Nathalia Sanchez for PT and couldn't have been

...

happier. She was professional, extremely knowledgeable and seemed to really enjoy her time with my daughter. She allowed my daughter (1yo) to warm up to her, was thorough in her assessment and tracked her development with great detail. Nathalia was also very thoughtful in writing out exercises for us to work on at home. The facilities are very clean, and we were able to take advantage of their newly expanded space for the final 2 appointments. Overall, would highly recommend!

read more
Triumph Therapeutics Washington, DCAfter an intensive search Triumph kept popping up. I reached out via phone and spoked with "the fantastic Ivan". Who assured me Triumph had

...

the services available to help us. As visitors to DC for just a short period of time we were still in need of some PT.And they didn't disappoint!From the moment you walk into TriumphTherapeutics space you see their dedication of care for children. The walls are decorated with such whimsy and delight making it so inviting and welcoming.We had the pleasure to be paired with the lovely Natalia. Who is simply amazing and gentle with her approach, touch and voice. Having worked with many PT's and OT's over many, many years. Natalia is not only professional but also clearly loves what she does and her work with babies and children. I can't recommend her enough to all but especially for parents with infants. Natalia is patient, thorough and her clarity with written instructions made clear how to continue with care at home. And when I had any confusion in regards Natalia, would go over the details again to help me better understand how to do the exercises with ease. Thank you Natalia Baby R and all of us are so pleased with your care and kindness.Also whilst there on one of our visit there was very rude child….And how Mr. Majekodunmi the owner of Triumph Therapeutics handle the situation was so well done and AMAZING!! Triumph Therapeutics even has a baby gate up at the front desk so that busy little ones keep safe.Thank you Triumph Therapeutics wishing you continued success and baby is doing great!

read more
My son has been going to triumph for the past year and he has improved in so many ways in both his speech and occupational needs. Mr Lu and the rest of the staff are always so

...

patient and accommodating with him. You truly join a family when you start therapy here and we are so grateful!Special kudos to the front desk staff Ms Kendra and Mr Ivan who are always very helpful

read more
My daughter have been receiving care at this clinic for a few months now and she's getting adjusted to it. The staff and facility is amazingly. Their extremely attentive and hands

...

on.

read more
Triumph Theraputics has been VERY helpful for our 3rd grader. He works with Mr. Lou (owner) and loves it. Mr. Lou has just the right combination of fun, firmness, and

...

patience!Our son has made significant progress with abdominal strength and fine motor work since the Fall and we plan to continue working with this practice!

read more
My experience with Triumph Therapeutics, specifically with Dr. Lou and Mr. Ivan has been amazing. We were referred to the practice by our pediatrician for some sensory issues. Dr.

...

Lou asked questions about our history and my son's symptoms without judgement which was really helpful and appreciated. It has been a few months and in that time Dr. Lou has fostered a relationship of trust and understanding with both me and my son. My son has made progress with his sensory issues and his meltdowns with certain clothing items have decreased.Mr. Ivan has been very helpful and has answered my frequent billing and insurance questions. I can honestly say I do not where we'd be without Dr. Lou and the help he has provided our family.

read more
This place is pure magic. My kiddo switched to Triumph after a rough OT experience elsewhere, and I have been so so grateful for that decision ever since.First: Every single

...

staff member I have encountered at Triumph is an absolute joy, no kidding. It feels like a family business—warm, welcoming, and soothing. They just *get* it. My daughter turned to me after her first visit and asked "when can we come back?"I wish I could give Mr. Lou 10 stars for his OT work with my daughter. I have seen her confidence and self-regulation improve over just a short period of time here. He is responsive, intuitive, knowledgeable, and connects easily with her. It has been a gift, truly, and I can't wait to see how she continues to grow!

read more
I highly recommend this place. The team at Triumph Therapeutics is amazing!!! They truly care about the children and find new and creative ways to engage with them from the

...

moment they walk through the door. Dr Lou is wonderful! He goes above and beyond providing care and help for a child coping with ADHD.

read more
My daughter Tomii is 3 years old and was diagnosed with autism. When we started at Triumph 6 months ago, she was using a few words and still mostly leading us by hand to what she

...

needed. Since working with Ms. Cora who is beyond amazing at what she does, she now speaks in sentence and uses her words to request things and without prompting. She knows all her colors, counts to 36, and knows her shapes. She's always excited to see Ms. Cora. We've had the best experience at Triumph and can't wait to see how Tomii continues to progress with speech and her educational milestones.

read more
We had a wonderful experience at Triumph Therapeutics, with Dr. Nathalia Sanchez and the whole Triumph team. We brought our son in at just 8 weeks, and he was assessed and treated

...

with the utmost care and safety. He completed his PT successfully, and we all enjoyed our time in office. Highly recommend!

read more
I just want to start off by saying I'm so incredibly thankful for the staff of Triumph. When we first started coming 4 months ago, I was near my breaking point with my 3 year old

...

son. He could barely talk, his impulse control was at zero, and his behavior was unimaginable. Through the patience of Mr. Lou, Ms. Jasmine and Ms. Mckenna we have seen a complete 180. My son now listens to me, effectively communicates his needs/wants and can even sit down for more than a minute to focus on a task. He is so much happier and has far more good days than bad. We love the entire staff and recommend this facility to anyone and everyone who needs specialized care for their children's needs. If you are looking for a safe, fun and inclusive facility, there is no need to look any further.

read more
This is a fantastic place. They helped me son learn to walk and were incredibly supportive during the whole process. Highly recommend!
Reviews don't lie ! They are truly amazing.. all of the therapists and all of the staff. Front desk is friendly and helpful. They are pretty flexible and able to accommodate.

...

Most importantly, it working to help our daughter walk - a big thanks to her PT nathalia

read more
My son has been attending Triumph Therapeutics for a couple months now and I am very pleased with the services provided. Their intake process and detailed evaluations are superb.

...

They essentially provide a roadmap for care that walks you through each of your child's goals. Their approach is very child centered, play based and focuses on "meeting the child where they are", which is key when dealing with a very rambunctious and stubborn toddler. Over the last several months, we have noticed remarkable improvement in fine motor skills and attentiveness to activities. Dr. Omololu aka "Dr. Lou" has the patience of a saint and works hard to ensure that my son is working on his goals, while also making him feel safe and understood. Dr. Lou is very passionate, and you can tell that he enjoys what he is doing and working with kids.Moreover, the entire staff is amazing, warm and welcoming. I called around to several places when I initially sought occupational therapy for my son. Mr. Ivan, who does intake and manages the front desk, was a breath of fresh air from the first conversation. He was super supportive and patient in answering all of our initial questions and took the time to explain to us the processes for services.Lastly, the environment is a true "vibe." The play space is amazing, and my son generally runs into the office as soon as we arrive. The décor is colorful, warm, welcoming and very kid friendly.If you're looking for place that treats your child like a "kid" and not just a "client", I would highly recommend Triumph Therapeutics!

read more
We've had a wonderful experience with Triumph. The staff is the best, particularly Natalia (PT) and Ivan. Very easy to work with. Would certainly recommend.
This place has made a wonderful difference in my son in only a short time.
My son has been seeing Ms. Jasmine for several months and has shown marked improvement in being in tune with his feelings and controlling his body. Highly recommend Triumph to

...

anyone.

read more
I absolutely love Triumphant Therapeutics! Within the first few weeks of my son starting speech therapy here, he began pronouncing and learning so many new words! My sons

...

therapist listened to my concerns and then came up with the perfect plan on how to help him. The front desk is always so kind and professional and the office is very welcoming and clean. If you're considering receiving therapy services in Washington D.C., I highly recommend Triumphant Therapeutics. You will NOT be disappointed.

read more
The staff here are amazing! Caring, fun, and dedicated to each patient in a loving way. Would highly recommend!
Dr. Lou is the BEST! He works so well with my son Harry.
Easy scheduling. Amazingly friendly staff. Great results.
Triumph Therapeutics is a great OT place! Dr. Lou has been providing OT to my son for the last few months and my son really enjoys going there and the results are great!
I don't think there are words right enough to put down to accurately describe Triumph Therapeutics and the environment Mr. Lu and his staff have created. There is usually

...

something wrong at a doctor's office, a nurse, a secretary, another doc, but not here. From Mr. Lu, to Mr. Ivan, to Ms. Jasmine (the OT my child works directly with), they are all invested in her success and mine as the parent as well!I love how they give you practical things to help your child have success at home. The environment is uplifting as well and even if you don't come in with a smile on your face, you sure will leave with one whether as a parent or child. You can feel the love and care as soon as you walk in the door. We have been to various therapy places for a few years now and while they were nice, this place will be our therapy home.

read more
If I could give this place more than 5 stars, I would. My daughter has been attending Triumph Therapeutics for a couple months now and I must say it's been an amazing experience.

...

After her first month there, I noticed so much improvement with her speech. They really do care about the children that walk through their doors. The whole staff has been beyond great. They always have a positive attitude and give great communication. I am a happy momma. To see how my child is improving and growing with their help, truly warms my heart. Any concerns that I had, they listened to and provided all the services that my baby girl needed.Egypt loves her therapist, Ms. McKenna. My daughter had a hard time pronouncing some letter sounds and words due to her overbite. Since working with Ms. McKenna, I've not only noticed improvement with her speech but I've also seen my daughter grow a lot of confidence now when she speaks. I have Ms. McKenna to thank for that. In addition, while working with Ms. McKenna, she noticed that my daughter also needed occupational therapy along with her speech therapy. She communicated to me and my mom her concerns and made sure my daughter received the extra help that she needed.I will like to also shoutout the practice owner, Mr. Lou. He is so sweet and caring of the children and families. I will like to add that the atmosphere of this place is awesome too. I love all the colors and equipment that they have for the children. It looks so fun in there. They have everything a kid would enjoy. Also, the place is always clean. I'm sure every parent would appreciate that.If you are a parent looking for services for your child, this is the place to bring your child. I am a super picky parent when it comes to my children. With that said, that means I always want the best for them; so because of that, I chose Triumph Therapeutics. If you don't believe this post, go see and experience this place for yourself! I promise you won't be disappointed!

read more
Days Triumph is closed / Snow Policy
In the event of inclement weather such as snow, Triumph will open at 12:00pm. If your child is appropriate, morning clients will be transitioned to teletherapy sessions. The therapist will send out a zoom link that morning.
New Year's Day (January 1st)

Martin Luther King Jr. Day (Monday Jan 17)

Memorial Day (Last Monday in May)

Independence Day (July 4)

Labor Day (First Monday in September)

Thanksgiving Day (Fourth Thursday in November)

Thanksgiving business day after

Christmas Day (December 25)

Christmas Day business day after